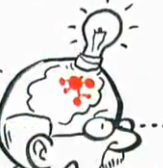 I was just watching an
RSAnimate video
on
Jeff Miller's posterous blog
about how we humans are soft-wired not for violence, not for self-interest, but for empathy.
It reminded me of my theory that we military brats are soft-wired to be social. I wonder if a brain scan would show we're more empathic or somehow predisposed to be the social glue that holds our network together?
I'm no scientist. But I do know that I was social long before there was social media. As an Air Force "brat", I've lived on 2 continents, in 2 countries, 4 states, on 1 island and god knows how many cities. All this moving meant I had to connect quickly and keep those connections going long after I left a city or job.
It's no surprise that as soon as there was Facebook, I was on it. Likewise I was an early adopter of LinkedIn, Twitter, Quora, Pinterest, etc.
I rely on social media to stay in touch with my far-flung network. BTW, staying connected definitely has its perks. I always have a place to stay when I'm in Puerto Rico, Kaui, France, Montreal, Austin, Philadelphia, San Francisco, Columbus, Manhattan...
For me, the answer to the question: are military brats inherently "social"? is YES. Our nomad lifestyle hard-wired us. The technology just makes it easier to do what we've always done: weave our friends', familys' and colleagues' lives and interests together.
Of course, that's just one woman's opinion. So I checked with another military brat, Christie Cordes, who is what else -- an ad recruiter. Here's what she said "...as a child who moved all over the world, I immediately recognized the real power of social media, whereas others, were like 'oh please they're just Facebook friends, not my REAL friends, because real friends are in front of you and would disappear if they moved cities, not to mention countries'."
For Christie & me, location has always been irrelevant. And maintaining a real friendship has always been possible no matter what city or country you live in.
So here's to all the "brats" who believe that your real friends will stay connected to you as long as you stay connected to them.
Image c/o RSA Animate.